Dinky Pad v0.92b
The graphical notepad for the PalmPilot
(Formerly known as Nota Bene for Pilot)

Fixed bugs in version 0.9b and 0.91b

The flagship application from DaggerWare, Dinky Pad is best described as a doodler. It lets you draw directly on the screen with your stylus, or use some basic graphics tools for simple image creation.

A virtual canvas of up to 2040 pixels high is supported, accessible using the hardware scroll buttons. Plus, all images are stored compressed, so the memory impact is only around one or two K per screenful.

This new version of Dinky Pad enables multiple image files, selectable using a list of thumbnail pictures. Also, a text note can be attached to each image, for use as a filename or as an aid to text transcription -- copying down a hastily-scrawled phone number in order to cut and paste it into another application. Plus, I've implemented some stroke-smoothing code, so your drawings should be much more jaggy-free than in the 0.1b version.

Don't believe me? Take a look at these screenshots: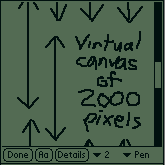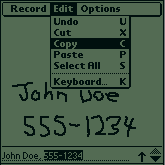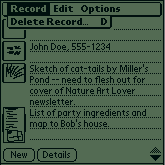 This is very stable software for a pre-1.0 release, but there is a known problem in very low memory conditions. Just watch out for those situations.
Dinky Pad 2.0 is in the works right now, scheduled for a summer release. Features in progress include grayscale support, plug-in tools, and full 2D scrolling. It'll be cool, and registered users will hear about it first!
I'm sure you just wanna download it at this point. Here it is:
Download Dinky Pad v0.92b (20K)
Be sure to check out the Dinky Pad Art Contest. Some really nice art pieces were submitted.
Pat Beirne has released a Dinky Pad image viewer for Windows PCs as part of his General Conduit Manager package. It uses the Visual Basic runtime library so you will need the VBRUN300.DLL and CMDIALOG.VBX files to run it properly. Definitely check this out if you want to export your images to your PC.
Dinky Pad is shareware. If you find yourself using it regularly, you are honor-bound to register it. This also gets you the added benefit of being automatically notified of future upgrades (always free to registered users) and additional DaggerWare programs. Technically, it's still beta softwware, but it's close enough to completion that you really should feel guilty if you use it and don't register -- and doubly guilty if you assign it to an AppHack button because you use it so much...
Questions? Check out the Dinky Pad FAQ.
---


Back to the DaggerWare home page